Meet Team San Diego Harley-Davidson
General Management
Owner
New York Myke
Myke, also known as "New York Myke" is the owner of San Diego Harley-Davidson®. He is an Air Force veteran, a true patriot and passionate about all things that represent freedom, such as Harley-Davidson® motorcycles. New York Myke is very community service oriented, cares deeply about our military and about protecting our freedoms.
Owner
Jen
Jen, a U.S. Air Force Academy graduate, has been dedicated to San Diego Harley-Davidson® from her teenage years. Jen focuses on ensuring that the quality of customer service at San Diego Harley® exceeds customer expectations. The highlights of her life include earning her Jump Wings and being a Mom to her three amazing children with GM of SDHD, Ty.
General Manager
Ty
Ty is a U.S. Air Force Academy graduate and the General Manager of San Diego Harley-Davidson. For over a decade, Ty has led San Diego Harley® on a path to excellence pushing his staff to provide an "above and beyond" experience to every customer. Ty has been fortunate enough to ride as far as Daytona and later to Milwaukee for the Harley-Davidson® 110th Anniversary.
Morena Sales Department
Morena MotorClothes Department
Morena Parts Department
Morena Service Department
Service Director
Keith
Keith has been working in the Harley-Davidson® industry for over 10 years. He has 2 bikes and has been riding for 35 years. Keith appreciates San Diego Harley-Davidson's® "commitment to the customer." His favorite aspect of working in service is fixing and servicing a customer's bike and then hearing about how great it ran on their amazing road trip. Outside of riding, Keith plays the drums and enjoys the great outdoors.
Service Manager
DA
DA has been in the motorcycle industry his entire career. He worked his way up from a service writer at San Diego Harley-Davidson® to the Service Manager. DA has a large, well trained staff that will properly maintain your motorcycle and take care of all of your Harley-Davidson® service related needs.
Collisions Manager
Charles
Charles is a San Diego native joining us in the Parts Department. He's worked all around the SoCal area for other Harley-Davidson shops but the solid reputation of San Diego Harley-Davidson brought him to our shop on Morena. When he's not working on expanding his vast moto knowledge or sourcing a part of the bike build of your dreams, he can be found riding his 2000 FLSTF and rolling his own cigarettes.
Collisions Technician
Jonny Ray
Jonny Ray has worked for San Diego Harley-Davidson® for Over 3 Decades!!! His favorite part about his line of work is test driving bikes. "Even when you're in a bad mood, a quick test ride will put you in a better place." Johnny has been turning wrenches since he was 3 years old, "and I love being a gearhead." He has a 13 year old son and a good friend that drives monster trucks. Hanging out in the pits at monster truck events is where Jonnny likes to be when he's not at work.
Shop Foreman
Clint
Clint has worked for San Diego Harley® for over 10 years and is a mainstay in the San Diego motorcycle community. Clint's committment to excellence and customer satisfaction drives the San Diego Harley-Davidson Service Department. You can find Clint around the shop doing wheelies on a mini bike or holding stand up comedy court for anyone that will listen.
Service Writer
Keif
Keif comes to San Diego Harley® from the metric motorcycle world and loves working with the world famous Bar and Shield. "Working for San Diego Harley-Davidson is awesome. The customers are fantastic, and I get to do what I love everyday." Keif is a big Chargers fan and will be very, very, very sad if they leave San Diego!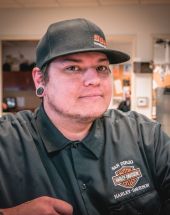 Service Writer
Jordan
Jordan rides a 2006 FLHTC and loves everything about working at San Diego Harley-Davidson. In his words, "I love it here!" He has excellent attention to detail and enjoys working with our amazing customers. He was born and raised in San Diego.
Service Writer
Spencer
Spencer is a Navy veteran (Hospital Corpsman) and rides a 2004 Dyna Super Glide. He loves coming to work everyday because he gets to "work with motorcycles, and the enviorment at San Diego Harley on a daily basis is nothing short of exciting, hilarious, laid back, and fast paced." Spencer is as nice of a guy as they come and he genuinely cares about our customers and their bikes.
Service Writer
Jake
Jake served in the U.S. Army and works with veteran nonprofit organizations to give back to the military community. He likes working with the guys in the SD H-D® service department in a unique and fun environment. "From delivering bikes to new Harley® owners to helping get serviced bikes back on the road, there's always something going on." Outside of work he spends as much time as he can with his 3 kids and family, loves range time, skydiving and "anything else that gets the adrenaline going!"
Motorcycle Technician
Jim
Jim is an H-D® factory trained master technician who has wrenched on bikes since 1997, and has been at SD H-D® since 2002. He was the first H-D® dealer technician to modify the V-Rod. His work has won shows and been featured in Easy Rider, American Bagger, and Hot Bike magazines.
Motorcycle Technician
Kaulin
Kaulin has been at San Diego H-D® for 2 years, and been in the industry for 4. He likes the small shop vibe of SD H-D® with big shop production. Kaulin loves his job and rides both a FXDX-T and has a Sportster. You can see Kaulin out racing the SD H-D® Flat Track Sportster around southern California!
Motorcycle Technician
Brian
Brian is new to San Diego from Chicago, where he lived with his brother and their dogs. Impressively, he has been with Harley-Davidson® for 18 years working as a top tech! He rides a Dyna FXDCI & a Sportster and loves the thrill of drilling down to the nuts and bolts of bikes. When he's not at work, he likes relaxing in his garage with his monster truck and enjoying a nice glass of whiskey.
Motorcycle Technician
Ryan
Ryan comes from Oregon and has been with Harley-Davidson® for the past 9 years. He likes the constant work at SD H-D®, and working with his coworkers in a fun environment. When he's not working on bikes at SD H-D® he plays guitar, likes "beers, laughs, comedy shows & motorcycles."
Motorcycle Technician
Eric H.
Eric has worked at San Diego Harley® since 2007. "NY Myke is a great American and I love working for this company." He also likes doughnuts and free coffee, and when he's not working he's riding his custom Dyna Switchback through the twisties in Chula Vista.
Motorcycle Technician
Zach
Zach is a new technician at San Diego Harley-Davidson and really knows his bikes. He started riding dirt bikes as a kid and has been riding since for over 20 years. He loves his Dyna. He was born here in Perris, California, and is now married with two children. Outside of riding motorcycles, and being a family man, Zach enjoys shooting guns as a hobby.
Motorcycle Technician
Mike
Mike is new to our Morena Service Department but not new to working on bikes. He's gotten his hands dirty from working on bikes his whole life and is excited to join forces with a bunch of other like-minded techs. San Diego Harley-Davidson is happy to welcome him to our team of expert mechanics.
Lot Tech
Avian
Avian joined our San Diego Harley-Davidson team because he loves everything about the dealership, specifically saying "it's a family." He is very close with his family who are from Tuscon, Arizona. He says his hardwork is installed by his father. He adds, "I love my parents, four little siblings, my girlfriend, my great dane, and music."
Lot Tech
Whisper
Bryan aka "Whisper" is one of the friendliest people you will ever meet. He is a lot tech here at SDHD and LOVES it, especially his boss and co-workers. What makes him best at his job is his attention to detail. Whisper is a San Diego native and is in the process of looking to buy a Black FDXL. He is leaving us this winter to join the Army, and we couldn't be more proud of him!
Lot Tech
Johnny
When asked what Johnny likes most about San Diego Harley, he said "everything and anything and finally being part of the SDHD family." We love that and we love Johnny's fun and outgoing personality. He loves everything about Harley's and enjoys working with anything with Harley on it. Johnny is all about riding, "no matter day or night or when and where!"
Morena Rentals Department
Rentals Manager
Kynon
Kynon is our new rentals manager. He loves that he knows our San Diego Harley-Davidson customers are going to have a great time on the bikes he rents them. Don't be surprised if he recommends a Sportster 48 - as that's the kind of bike he rides. When not at the dealership, you can find him fishing, camping, working on muscle cars and engines of all kinds.
Kearny Mesa Sales Department
Kearny Mesa MotorClothes Department
MotorClothes® Associate
Tini
Christina "Tini" has been with San Diego Harley-Davidson® for over 7 years and says she loves "Everything!" about it from the people to the bikes. "Working here is like having a second family!" Christina is legendary in the MotorClothes® world for building and maintaining a great customer base. There are many customers who have no problem waiting in a long line because they only want to be taken care of by our amazing Christina.
MotorClothes® Associate
Barb
Barb comes to SDHD with a wild and fun personality. Barb is orginially from Michigan, but has lived in California for over 15 years! Her favorite part about SDHD is that everyone is welcome to be their true self here and that individuality is important. She has 5 amazing children and a rockstar of a husband, Phish (who also works here at SDHD)! Although she doesn't ride, you can always catch her on the back of her husband's Dyna!
Kearny Mesa Parts Department
Parts Advisor
Al
Al Schultz has worked for San Diego Harley-Davidson® for over 35 years! He likes that San Diego Harley® has a "friendly motorcycle environment, great people, staff and owners." He is an avid rider, proud owner of 4 motorcycles, and known as being an encyclopedia of part numbers. Al really knows his product knowledge and is proud to lead our parts department at Kearny Mesa. Visit Al soon to see why he's the best, especially if you have old Harley-Davidsons®, he's your guy!
Parts Advisor
Gerald
Gerald recently welcomed his first child into the world! He is new to San Diego Harley-Davidson® but hopes to work with us until retirement. He likes that SD H-D® is a "tight knit family like group of employees that eat, sleep, live Harley-Davidson®." Gerald grew up in a family filled with motorcycle and Harley® enthusiasts. He graduated in the top of his class at Motorcycle Mechanics Institute.
Kearny Mesa Service Department
Service Manager
Josh
Josh rides an FXRS. He is a natural team leader and says he loves working in a great team environment. Josh has worked in all aspects of the service department from wrenching to service writing and is now leading the team at our Kearny Mesa location. According to Josh, "customer satisfaction is my #1 goal."
Service Writer
Garrett
We are pumped to welcome back Garrett to San Diego Harley-Davidson. He lives over in Santee, so only a few twist and turns away, and has been in the HD industry for 7 years. He of course rides a Harley and loves surrounding himself with other like-minded bikers. He's got four kids and a loving wife at home. Outside of riding, he loves everything outdoors: camping, boating, sports, and more.
Motorcycle Technician
Ryan
Ryan rides an XL1200, loves his job and firmly believes in honestly and integrity. According to Ryan, "San Diego Harley-Davidson® stands by its family values, attention to detail, and supporting an American past time. San Diego Harley-Davidson® supports all branches of our country's Armed Forces as well as helping people of all walks follow their dreams of owning and riding a Harley®." We love having Ryan on the SD H-D® staff and really appreciate all of his hard work and dedication.
Motorcycle Technician
Eric
Eric rides a 1992 FXR Lowrider. "I treat customer bikes like I would treat mine...fixing the concern right the 1st time is what keeps customers coming back." Eric was born and raised in Hawaii. He joined the Army when he was 18 years old and worked on helicopter power train systems. He was stationed in Fort Bragg N.C. and deployed to Desert Shield/Storm. Eric was later stationed in Germany then Kentucky and left with an honorable discharge. After graduating from MMI in 1997 he started working as a Harley-Davidson® technician.
Motorcycle Technician
Snowball
Snowball hales from the great state of Vermont and moved across the country to work at San Diego Harley-Davidson®. "What I love about living in San Diego is the opportunity to work at an awesome dealership...the great friends I've made living in SoCal....and of course the year round riding!"
Lot Tech
Wolfpack
Ryan "Wolfpack" is our Lot Tech at San Diego Harley-Davidson in Kearny Mesa. He hails all the way from Snohomish, Washington. He rides a Low Rider and is big into motorcycles, so he's definitely at the right place. On his free time, he's hanging with friends sipping a cold one. He also enjoys salmon fishing. He's very happy now to be living by the beaches of sunny San Diego.
Seaport Village Team
Support Staff
Controller
Kim
Kim has been with San Diego Harley-Davidson® for over 8 Years. "I love my job and my work family at SD H-D®. We have built an awesome team who share the same goals and have the same passions for what we do. I consider everyone here family and they are the best of the best." Kim commutes to SD H-D® from Ramona where she is raising a family who loves the outdoors and competitive horseback riding.
Accounting
Linda
Linda is a queen of numbers as a new hire in our accounting department. She's traveled near and far to wind up at San Diego Harley. Over the last 30+ years, she's gone from Nebraska, to Texas, and finally to the sunshine of SoCal. Even though she doesn't ride a bike now, she loves looking at bikes - which means she's definitely in the right place! When not working, she enjoys dogs, cats, baking, and Bunco. Fun times!
Accounting
Becca
Rebecca "Becca" joined the San Diego Harley-Davidson® accounting team because she loves how family oriented the business is. With a floor full of bikes and a team full of quick-wit, Rebecca finds the employees and the environment what makes coming into work everyday exciting and comfortable. Even though she doesn't ride a bike now, she's open to the possibility of experiencing wind therapy first-hand one day. And when you see her out, quiz her: she claims to know all the lyrics to Ice Ice Baby by Vanilla Ice and can say the alphabet backwards.
Motorcycle Sales Support
Dawn
Dawn has worked for San Diego Harley-Davidson® for over 16 years! She has been a huge support of our sales department through her knowledge and meticulous organizational skills handling all of the paperwork. According to Dawn, "I couldn't imagine working anywhere else, this is my family."
Motorcycle Inventory Control
Derik
Derik has been working for San Diego Harley-Davidson® for over 10 years now. He is inspired to fulfill the dream of owning a Harley-Davidson® motorcycle, providing extraordinary customer experiences, and fueling the passion for freedom that only a Harley-Davidson® motorcycle can provide. He has been riding for nearly 20 years and his life changed the day he bought his first Harley®
Event Coordinator
Michelle
Michelle was born to be the San Diego Harley-Davidson Events Coordinator! She has 20 years of experience in hospitality and customer service, and it really shows in her work. Her favorite aspects of San Diego Harley are the atmosphere and the people. Michelle and her three children are now part of our SDHD family and we are grateful!
Custodian
Noe
Noe is easily one of our hardest working employees at San Diego Harley-Davidson. He's like a machine. In his words, what makes him good at his job is "honor, duty and loyalty." We are so grateful to have Noe keeping SDHD on Morena and Kearny clean plus all of his other additional duties such as event support and overall dealership support.
---
At times we are on the look out for individuals to join us who share our passion and commitment. If this is you and you are interested in working with us, please get in touch